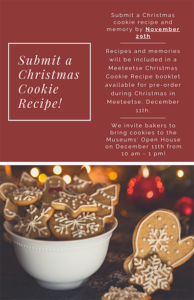 The Meeteetse Museums is looking for bakers to submit their Christmas cookie recipes and a Christmas memory! The recipes and memories will be included in a Meeteetse Christmas recipe booklet with historic photographs, recipes from the Museums' collection, and more. Recipes must be submitted by November 29th. They can be submitted in-person at the Museums or by email.
We encourage bakers to bring their cookies to the Museums' Christmas Open House on December 11th from 10 am – 1 pm! The recipe booklet will be available for pre-order during the Open House or for pickup the following week, just in time for Christmas!
Questions? Call (307) 868-2423 to learn more.